Recipes
All herbs can be purchased from our Single Herb Range (link) and "Tea Blend" Range. (link)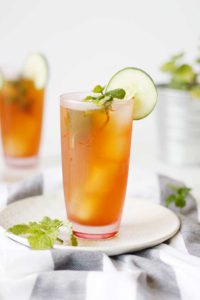 Orange Mint Nectar Tisane (warm or cold)
1/2 cup fresh mint leaves, 1/4 cup Olive Leaves (link), 1 cup orange juice, honey to taste (optional)
Bring water to the boil. Pour over Mint and Olive leaves in a large bowl. Steep until cool. (15-20) minutes. The longer you steep the more potent the flavour.
Strain out leaves and pour into a pitcher, mix in the orange juice and honey to taste.
Refrigerate and serve in tall glasses with ice cubes and orange zest. Decorate with mint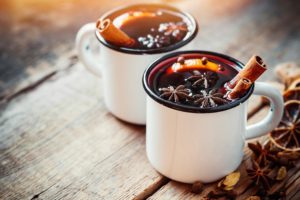 Mulled Spice Tea
Base Tea: I recommend our Orange and Horopito Blend. 
Spice Blend: 4 whole cloves, 4 tsps. cinnamon, or cinnamon sticks, 5 Cardamom Pods or crushed Cardamom, 1 tsp grated orange zest or dried orange rind, 4 whole allspice, grated orange, star anise (optional) Ginger
Up to 2 tablespoons total of other optional herbs, such as calendula, rose and petals, Tulsi, Marshmallow. Take a look at our Herbal Description (link) to choose what you would like.
(This blend can be prepared for you, with your choice of herbs). It is also a beautiful blend as a latte. See "How to make a Ti Latte!"
To brew as a Tea, place a big spoonful or more depending on your taste, into a tea pot or filtered cup or tea class and add 200ml or more of boiling water.
Steep 5-10minutes. The longer you steep the more intense and therapeutic your blend will be.
Chilling Tisane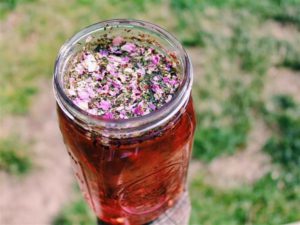 2 parts Chamomile flowers, 2 parts Olive Leaf, 2 parts Lemon balm, 1 part Lavender, 1 part Rose petals, pinch of nutmeg to taste, Honey, slice of lime or lemon (optional) – Combine the dried herbs, flowers, and spices in a glass jar. To prepare one cup of herbal tea, use 1 to 2 teaspoons per cup of hot water. Steep for 3 to 10 minutes. Alternatively, Cool and Add ice.
Find a sunny spot, cushions a great book and Chill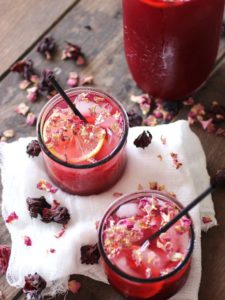 Te Puna (Spring )
1 teaspoon Orange peel, 1 teaspoon Rosemary, 1 teaspoon Rosehips, 1 teaspoon Hibiscus flowers, 1 teaspoon Rose petals
1 quart mason jar
2 tablespoons raw honey (optional)
Measure herbs into the mason jar and fill to the neck with room temperature, filtered water (about 4 cups). Close with a loose fitting lid, and place outside in a bright, sunny spot for at least 1 hour, shaking occasionally. It should develop a rich red colour. After 1 hour, add 2 tablespoons of raw honey to taste, shake well, and enjoy with fresh mint, lemon, ice cubes or a spritz of seltzer water.


How to make a Ti Latte!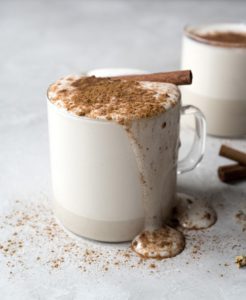 Moe Moe (sleepy) Latte
1 part chamomile. 1 part Lavender, 1 part Cinnamon, natural vanilla extract or pod. Milk of your choice, I prefer Nut Milk, Honey or Maple syrup (optional)
You will need, Coffee press, saucepan, strainer.
Put everything into the saucepan except for vanilla. Medium-low heat until little bubbles form on the sides of the pan and let it simmer for a couple of minutes before turning off the heat. Don't let it boil. Once steeped, strain into a small coffee press.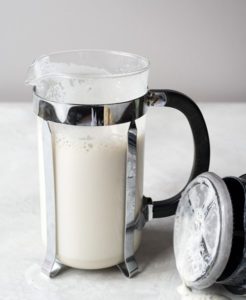 If you don't have a Milk Froth device, use a Coffee press! Give it a good 8 pumps or so, depending how frothy you like it. Then add the vanilla and sweeteners.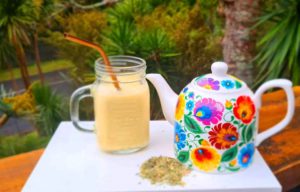 Tea Smoothies
GF, Dairy Free
Mango, Lemon Grass, ginger, Manuka Tea Blend Smoothie
Frozen Mango, Avocado, Cucumber, Lemon Grass, ginger, Manuka Tea blend with Lemon Balm brew, Pea Protein (Optional), half a banana (optional), coconut yoghurt or milk/cream, extra ginger to your liking.
Brew a tasty tea and pop into the deep freeze to cool. In a blender add, Frozen Mangos, Avocado, Pea Protein and extra ginger. Add coconut milk to half the tumbler, and then the tea brew… Ratios to your liking, have a play!
Gut Brain Health
You may like to add, Slippery Elm Root Powder for gut health or Ashwagandha or Marshmallow Root.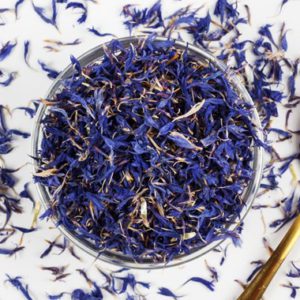 Smooth Blues
1 part Corn flower, 1 part lavender, 3 parts black current and vanilla infusion. Try this as a Nut milk Latte (method as above) or Tea.
Strawberry Joy Smoothie
Frozen Strawberries, Banana, Strawberry coconut yoghurt, coconut milk/cream, Pea Protein, Tisane brew of Raspberry Leaf, Hibiscus Rose Petals, garnish grated cacao or nibs and petals. Sweetener if you wish a date, honey, maple syrup.
Make a Brew of Raspberry Leaf, Hibiscus and Rose Petals, pop in the deep freeze to cool. Pack the tumbler with frozen Strawberries, strawberry yoghurt, coconut milk/cream, or other milk of your choice and Pea Protein. Top up with cooled Tisane Brew, then add garnish. You can make this thicker by adding whipped coconut cream, more strawberries, almonds, shaved cacao or nibs, chopped up fruit … anything you like… have a play.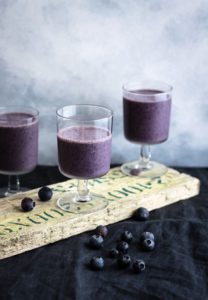 Calming Blue
Frozen Blueberries, Vanilla and Black Current Tea Blend
Make a tasty brew of Vanilla and Black Current Tea Blend and Lavender flowers. Pop it in the Deep freeze to cool. To the tumbler, add frozen Blueberries, a small banana, coconut yoghurt (plain), Pea Protein powder (optional), add about half a tumbler or slightly more of the milk, of your choice then top up with tea brew. I like to use coconut milk or activated almond. If you want to make it really thick you can add coconut cream that has been whipped. It will make a great dessert, sprinkled with almonds; cacao nibs Ratios to your liking… have a play!
Fresh, Green and Fruity Smoothie
Frozen Banana, Kiwi Fruit or apple, cucumber, avocado, coconut yoghurt (any flavour), pea protein (optional). A brew of Fejoa tea Blend and Lemon Balm. Top up with milk of your choice (optional) and blend. Ratios to your liking… have a play!